This winter, men's fashion will take a lurch to the right: once again more conservative, calmer, dominated by black and beige. But at the same time, the fashion week circus was more chaotic and noisy than ever before.
Now that the pandemic is under control and China has once again thrown the doors wide open, a wave of fashion change is underway.
At the time this piece went to press, Gucci had not yet named a successor to Artistic Director Alessandro Michele, and the position of the late Virgil Abloh remained unfilled at Louis Vuitton.
That two of the world's largest luxury houses are creatively adrift must be frightening for shareholders. But the ordinary viewer will probably be presented with plenty of cliffhangers and unexpected twists in the coming months. Gucci opened Milan fashion week for the first time in years without Michele.
He had been asked to change course, by designing more traditional products, and to be less silly. In order to continue to grow, Gucci had to become more exclusive and commercial at the same time. That strategy is now being executed without much vision or character. Stripped of Michele's endless philosophical tracts, his passion for Donald Duck, glitter, and Elton John's seventies outfits, Gucci is a luxury brand like any other. Desirable clothes, sure, but they might as well have rolled out of the factories of Celine or Dries Van Noten.
SIMPLE REDUCTIONISM
Prada also clearly follows a well-defined strategy. There was a time when each collection of the label was completely different from the previous one. Now each new drop seems to be a variation of what came before. Miuccia Prada and Raf Simons spoke in their press release of "a further exploration of the fundamentals of fashion" and of "reductionism and simplism." The result: a procession of boys in minimalist, narrow suits with contrasting loose collars, worn over naked torsos, and accompanied by horny techno in a fantastic, empty stripped decor in which all attention went to a gently rising ceiling and a few chandeliers.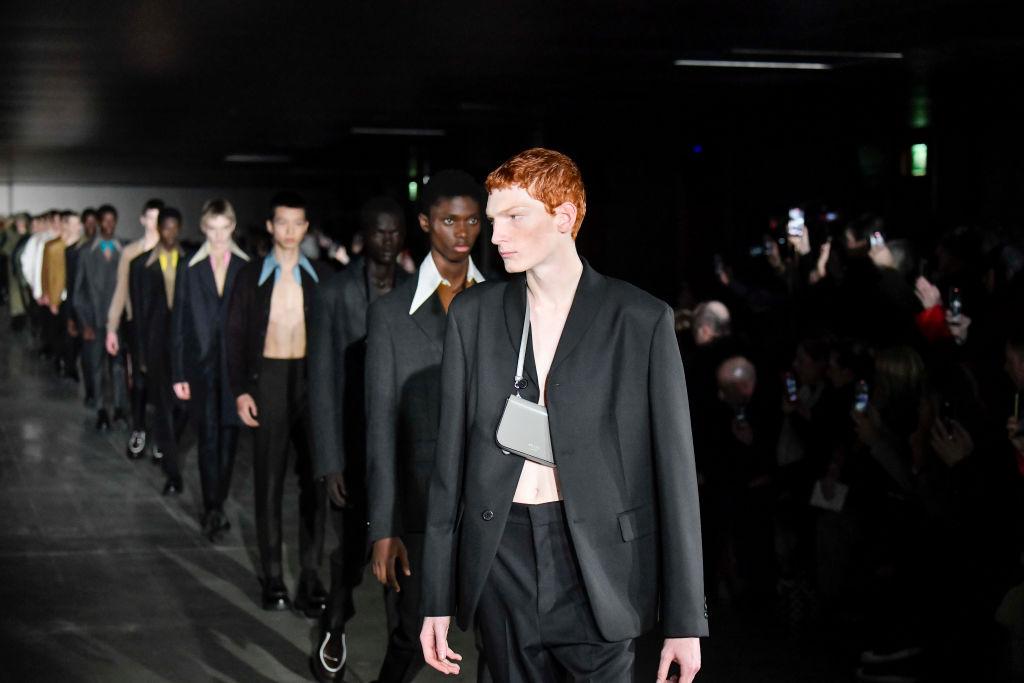 'Back to basics' was also the slogan of the more classic Italian labels, from Brioni over Canali to Tod's, where the clock seemed to have been turned back to around 2007, that is to say: tried to carry out a rejuvenation operation for just about every traditional house, for example by, like Brioni, having Metallica show up for an advertising campaign. 'Basics' means conservative suits and beige winter coats for these brands. In that category, only Zegna, with artistic director Alessandro Sartori, has a progressive vision of luxury fashion.
However, going back to the essence does not necessarily have to be depressing. Dolce e Gabbana, like last season, squinted at their jet-black, Sicilian, rather serious early years, which were also seriously sexy, with some reprises from their winter 1999 collection, with exaggerated silhouettes and corset-like wraps. "Black," the designers said, "represents reserve, elegance, seriousness and seduction." Their show was an unexpected highlight in Milan.
And then there was Dsquared2, where time seemed to have stood still for twenty years. Dean and Dan Caten, the Canadian founders of the brand, had no trace of 'reductionism'. The twins, as usual, threw all sorts of sexy menswear clichés over and over each other ("It's a boy!" was the text on one tight t-shirt), with the only acknowledgment that it is 2023, a scrap of lingerie here and over there. OK, Y2K!
NOT SO SUPERB
In Paris, the spectacle often prevailed, sometimes at the expense of the clothes.
At Louis Vuitton you didn't know where to look first. To the meandering catwalk, perhaps: a row of cluttered boys' rooms crocheted together that the models zigzagged through, occasionally picking up a teddy bear and then throwing it away. Or to the wall of the room built for the occasion in a courtyard of the Louvre, on which a slick film by cult director Michel Gondry was projected. Or to the bright yellow old-timer at the other end of the room. The car served as a stage for the Spanish hit phenomenon Rosalìa, and you couldn't not look at Rosalìa, but then you missed the clothes.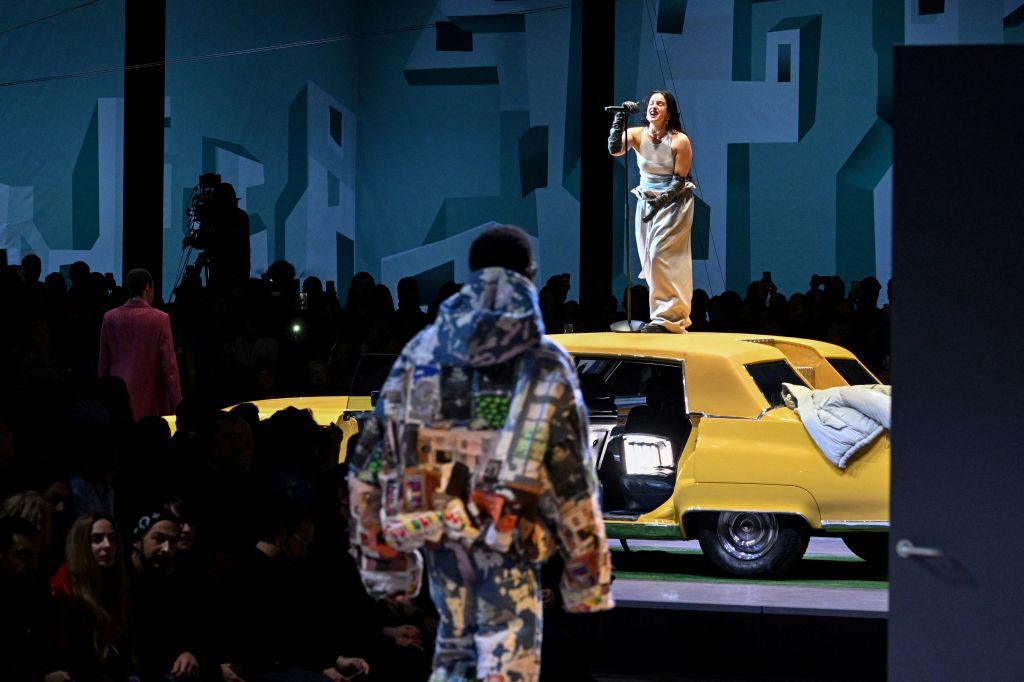 Part of the collection was designed by the young American designer Colm Dilane, who recently received a lot of attention with his KidSuper label. Will he soon get the top job at Vuitton permanently? It could be, but it's unlikely at the same time. Virgil Abloh, the previous men's designer, broke through with a similar myth of the outsider and dreamer who, to everyone's (and his own) surprise, found himself in the upper echelons of the luxury industry. But Abloh already had his own successful label, Off-White, and as a Black man in the predominantly white luxury sector, his career was also more significant. Dilane has really only proven an innate talent for self-promotion at this point in his career. Maybe that's enough. See: the Kardashians.
DIRTY JOKES AND BRIGHT FLASHES
For the KidSuper show two days later, Dilane had invited a handful of American stand-up comedians (Jeff Ross, Stavros Halkias and Andrew Schultz) and anyone else who wanted to come, causing chaotic conditions in front of the theater entrance. The evening was talked together by Tyra Banks. Dirty jokes were told. Banks and the comedians wore the busy outfits of KidSuper, but here again the clothes seemed secondary, the focus was on image, influence and entertainment, rather than pure fashion.
Marine Serre, nevertheless a talented designer who you would think would be proud of her meritorious work, held her show in semi-darkness, interspersed with nauseating flash effects. I kept my eyes closed almost the entire time, and barely saw anything (singer Yseult walked along, nice, and legendary Belgian Kristina De Coninck, cool too).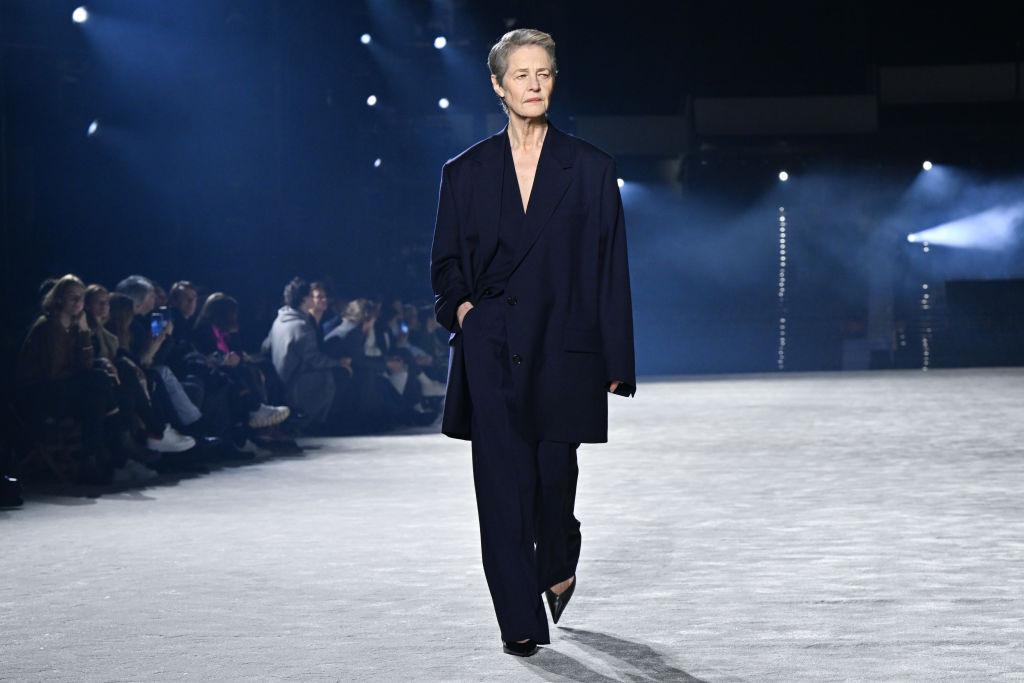 Then rather Ami, where Charlotte Rampling strode perfectly lit over the stage of the Opéra Bastille. Or Dries Van Noten, who made his audience stand up for a show with an avant-garde vibe and a live performance by Lander & Adriaan. Or the tiny catwalk debuts of AIREI from Los Angeles, Jeanne Friot from Paris, or Liberal Youth Ministry from Guadalajara, or Namesake from Taipei. Or Rick Owens, who once again proved that a 'big' show can also be intimate.
THE CIRCUS IS BACK
It was the first fashion week at full speed in years. Of all the good intentions made during the pandemic, nothing remained. The fashion, which was often restrained, more minimal than before. But the whole circus around it was more overwhelming than ever: the noise of the mega shows, the influencers in their quasi-identical outfits, the celebrities surrounded by boydguards, the screaming fans behind the crush barriers, the after parties followed by press bites. Sometimes it gave you a headache. Also because there was rarely time to eat something decent.
And yet it was better, you tried to convince yourself on a Sunday morning, five degrees below freezing, fingers half frozen, on a bench in a garden for Doublet's crazy show, than watching digital shows alone on your laptop. stare.
THE POWER OF K-POP
At Dior in Paris you had to look for the spectacle on your doorstep. There, the new face of the brand, Jimin of k-pop sensation BTS, made his appearance in front of hundreds of screeching fans at Place de la Concorde — my 'reel' of Jimin and Bodyguards has racked up over 80,000 views and 620 comments on Instagram.
David Beckham, one of the other guests on the show, seemed uninterested. The brand even sent out a communique a day earlier about Jimin's arrival. That rarely happens otherwise. A k-pop star on the front row generates fortunes in visibility and attention for a brand. So it was not noticed that Prada brought the boy band Enhyphen to Milan, that EXO's Kai was front row at Gucci, and that BTS' J-Hope was a guest at Vuitton. And at Dior, where he did some dance moves for the fans afterwards.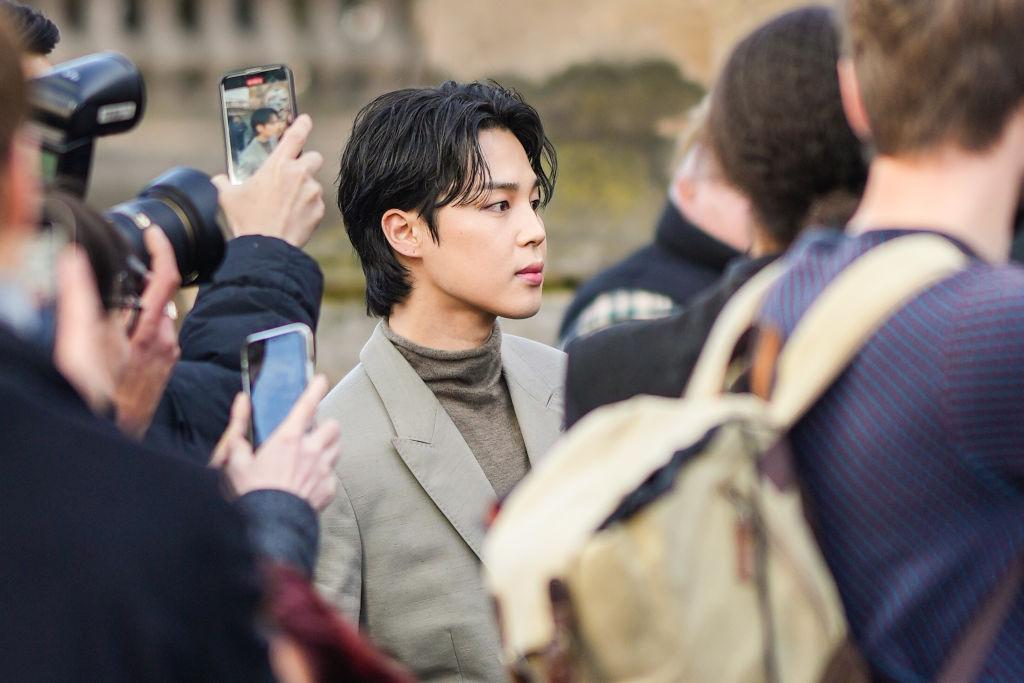 5 TRENDS FOR COMING WINTER
1. Invest in a coat, a long one, preferably ankle-length, and wear it bare-chested. Glamor guaranteed, flu maybe too.
2. Ignore color: winter turns almost completely black. Butter yellow has a supporting role, as with Zegna.
3. Fashion is becoming more conservative again, but still progressive: we saw a lot of single shoulders, a lot of skirts (for example, in John Galliano's masterful show for Maison Margiela), quite a few exercises with lingerie, and corsets.
4. Brighten up your black outfits with shimmering stones and crystals, like with Dolce e Gabbana.
5. Muse of the season: seedy Italian club kid, like Martine Rose or Magliano.