Travel journalist Ann Cools had sworn off them, the mountains. Too heavy, too difficult, too scary. Yet recently she lay shivering in a windswept tent, but so content, in the heart of the Karakoram Mountains of northern Pakistan.
The greenness grows from behind my ears when it comes to mountains and trekking. The name Karakoram initially did not ring a bell. However, the mountains are not the least. Flanked by the Hindu Kush and the Himalayas, it straddles the border region of Pakistan, India and China. The flagship of the Karakoram range is K2 (8611 m), the highest mountain in the world after Mount Everest (8849 m).
Due to conflict, terrorist threat and political instability, there was a negative travel advice for Pakistan for a long time. On the other hand, the country has a very rich culture, with a melting pot of ethnicities and vibrant cities such as Lahore. From high mountains and eternal ice to green valleys and desert, the landscape is just as diverse. Pakistan is an intriguing country in all its layers. However, I have no immediate intention to go there. Until I meet Kris, the driving force behind the Offtrack travel organization, who goes all out for adventure.
Ann without fear
The undeniably wild nature of trekking in Pakistan tugs at my nature-loving soul. Two weeks of hiking on and along Baltoro, with 63 kilometers the longest glacier outside the polar regions. We would pass the base camps come from the highest peaks, where world-renowned climbers prepare their expeditions. Via countless ice and stone slopes, the altitude gradually increases from 3000 meters above sea level to no less than 5000 meters. The crowning glory of all this is Gondogoro La, a mountain pass at an altitude of 5600 meters that must be conquered with crampons and a harness. A nocturnal undertaking, moreover, to minimize the risk of avalanches. The program is brimming with dizzying numbers and throws me off. Who am I, with my shaky knees and meager track record, to take on a challenge of this size with a group of seasoned trekkers?
The crowning glory of the climb is Gondogoro La, a mountain pass at an altitude of 5600 meters that must be conquered with crampons and a harness. A nocturnal undertaking, moreover, to minimize the risk of avalanches.
Enter Ann Without Fear: my alter ego that resists fear of failure with varying degrees of success. This time she wins the battle, provided the promise of thorough preparation. I walk, do interval training and climb stairs with a backpack full of diving weights. The last four weeks before departure I sleep in an altitude tent, the ultimate trick to get my body used to the thin mountain air in advance.
Read also: Alpiniste Sofie Lenaerts travels the world: 'The higher a mountain, the easier it is for me to disconnect'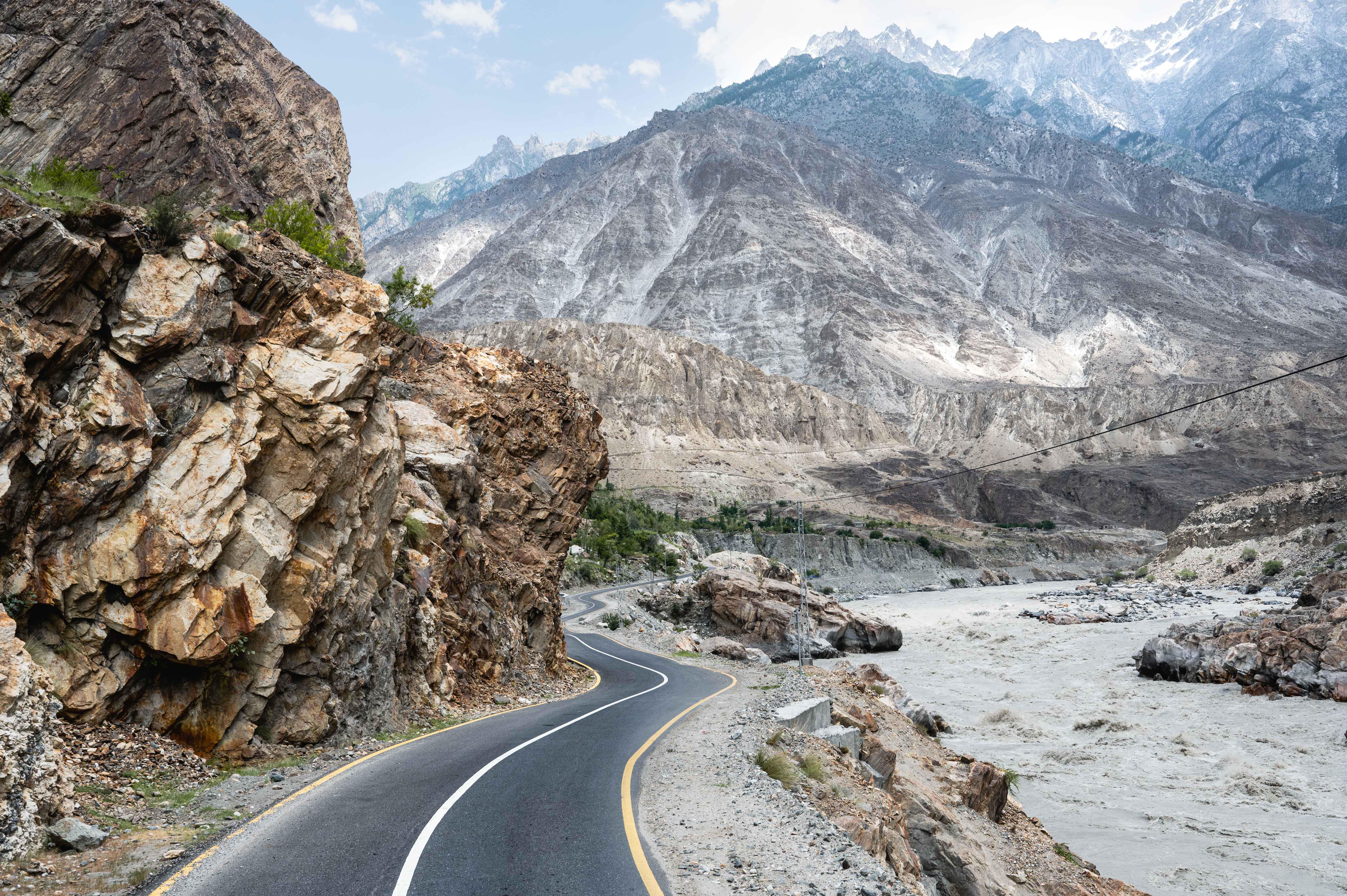 On the cable
"Electricity cable!" warns Frank, whereupon the four of us lean back in sync. Riding on the roof of the bus, we get in the right mood for the adventure of a lifetime. Via the Karakoram Highway we arrive in Skardu, a village-like yet busy city that serves as the gateway to Karakoram. The local police are clearly pleased with our visit. When they are done with our permits, they insist on taking pictures with our group. The journey continues on largely unpaved roads, until a bridge that has been washed away forces us to a halt. A few days ago, heavy rains and melting glaciers caused a sudden rise in the water level, causing the bridge to crash with one end into the raging river. Without realizing it, at that moment we are witnessing the omens of a natural disaster. A month later, a third of Pakistan is completely flooded by floods. A line through the bill for a country that is working hard on a more positive image and above all a drama for the population already struggling with poverty.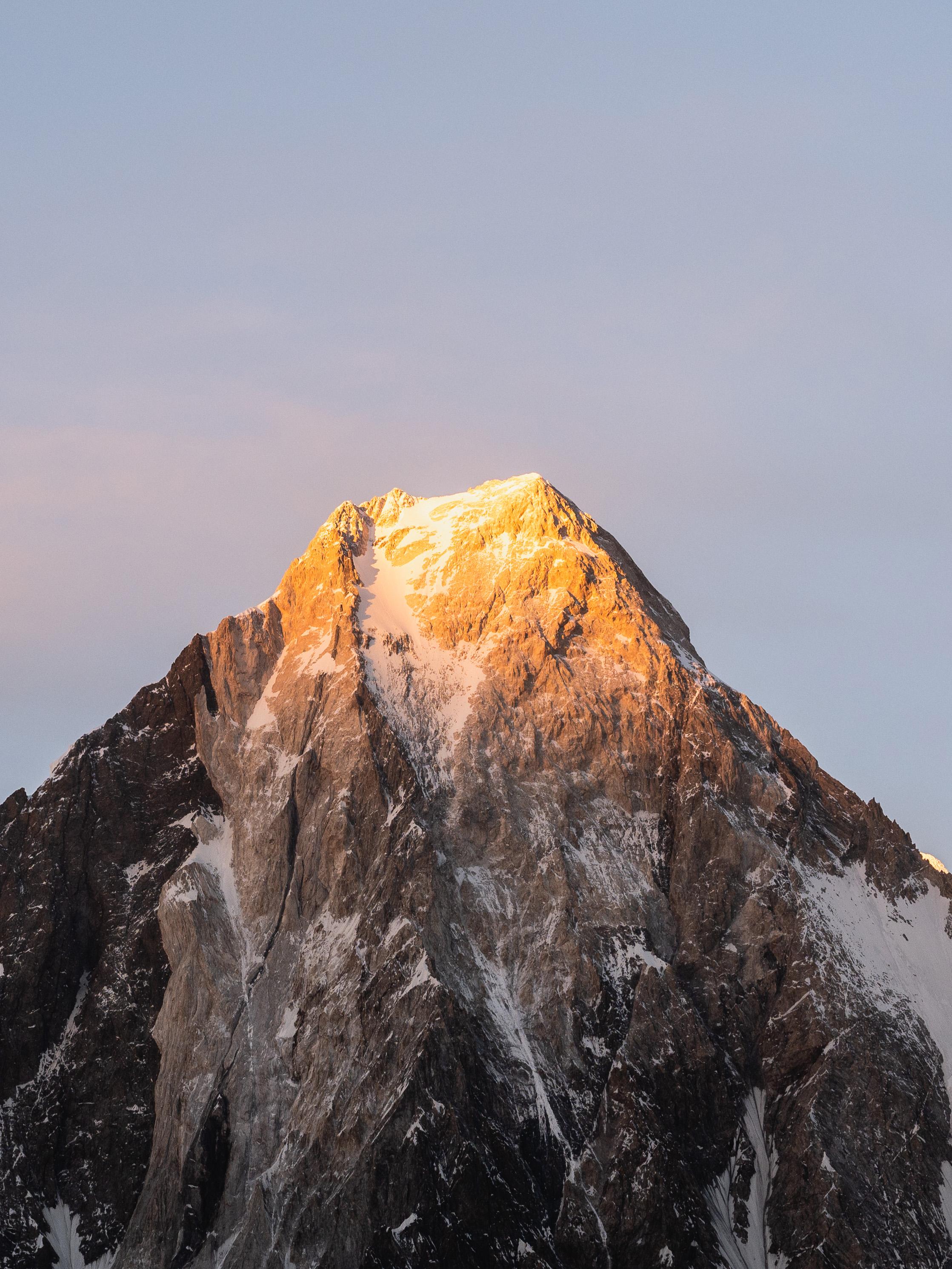 Attempts to curb the indomitable force of nature regularly lead to destroyed infrastructure. But it molds the ingenuity and solution-oriented spirit of the people. Waiting for a new bridge to be built is not an option, so a cable was installed over the swirling masses. A meager wooden box hangs from that cable in which we are pulled across one by one.
With one in four climbers dying, an expedition to the top of K2 has a proven reputation for being perilous.
After two days of bus sitting and jeep swinging we arrive in Jhola. Ready for action we start the journey. The dusty sand forms volatile clouds around the pack of marching legs. There are twelve of us: Kris, who did the trek a few years ago and eleven participants, including me – who set foot in Karakoram for the first time – and Saif, the local guide who accompanies us and directs the porters. A draw of this caliber is quite an undertaking. Dozens of porters and donkeys are responsible for the transport of food, tents, cooking equipment and luggage. We ourselves carry a daypack filled with warm and waterproof clothing, snacks and enough water to get through the long walking days. In my case, a few kilos of camera material are added.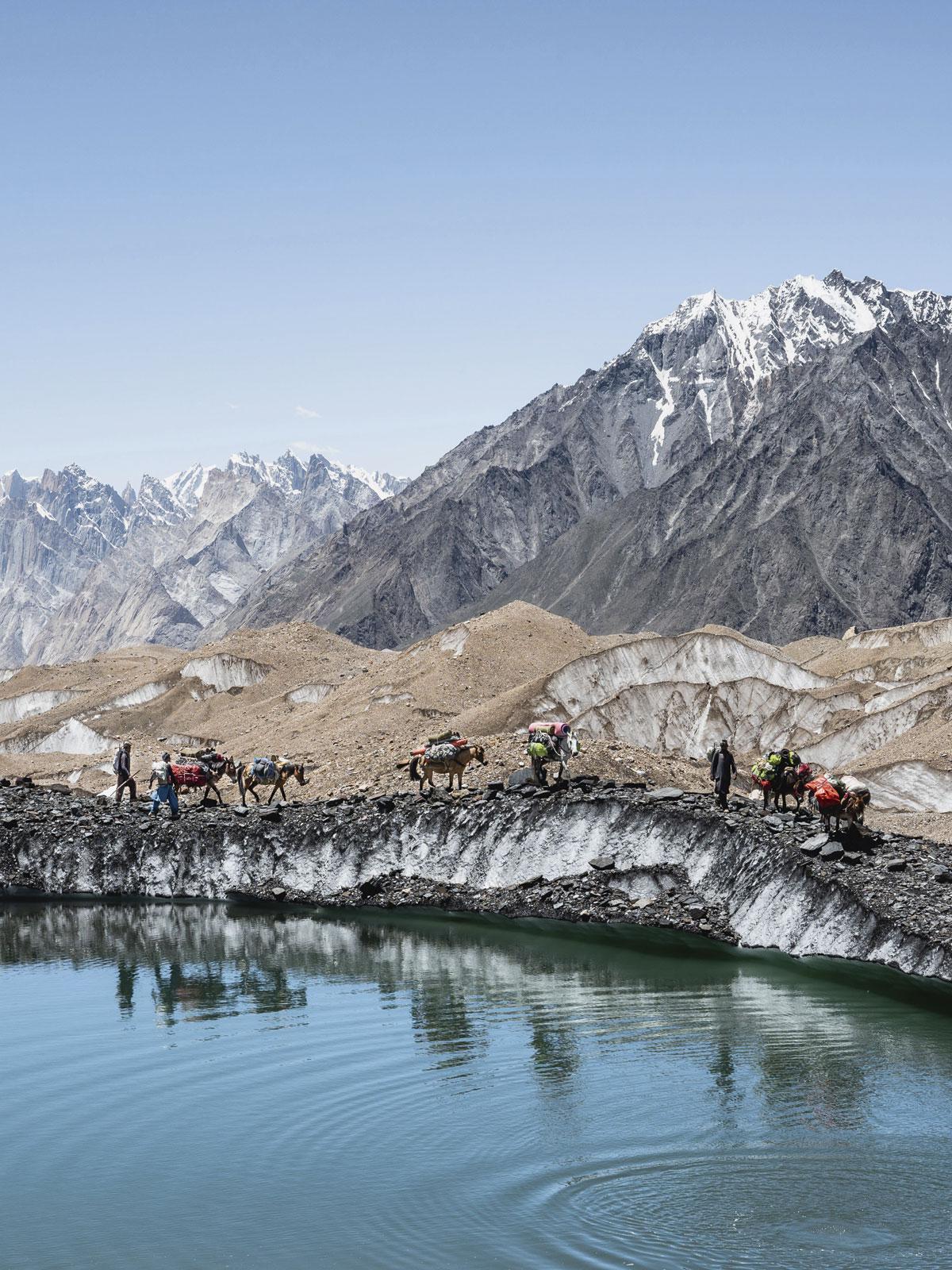 Everything for a smos
Traveling together creates a bond, and boundaries fade faster than the memory of nightly dreams. No one is surprised by the daily talk about stool. From collectively looking out for high, wide rocks to discussing frequency and stability. A new shared desire also regularly pops up: fruit, chocolate, one smosque. The basic humanity accentuates the immeasurability of the world we traverse. The Baltoro Glacier, which flows like a lifeline through the mountains, creaks and sighs. Here and there, deep gorges appear in the ice mass buried by rubble. Contrary to what the term suggests, the stone rubble varies in shape, color and texture. Plain brown-grey gives way to deep red and special mineral patterns. With the increasing altitude we see more and more ice structures and a maze of industrious streams. The blazing sun is a constant – it remains surprisingly warm at high altitude – but the wind is getting significantly colder.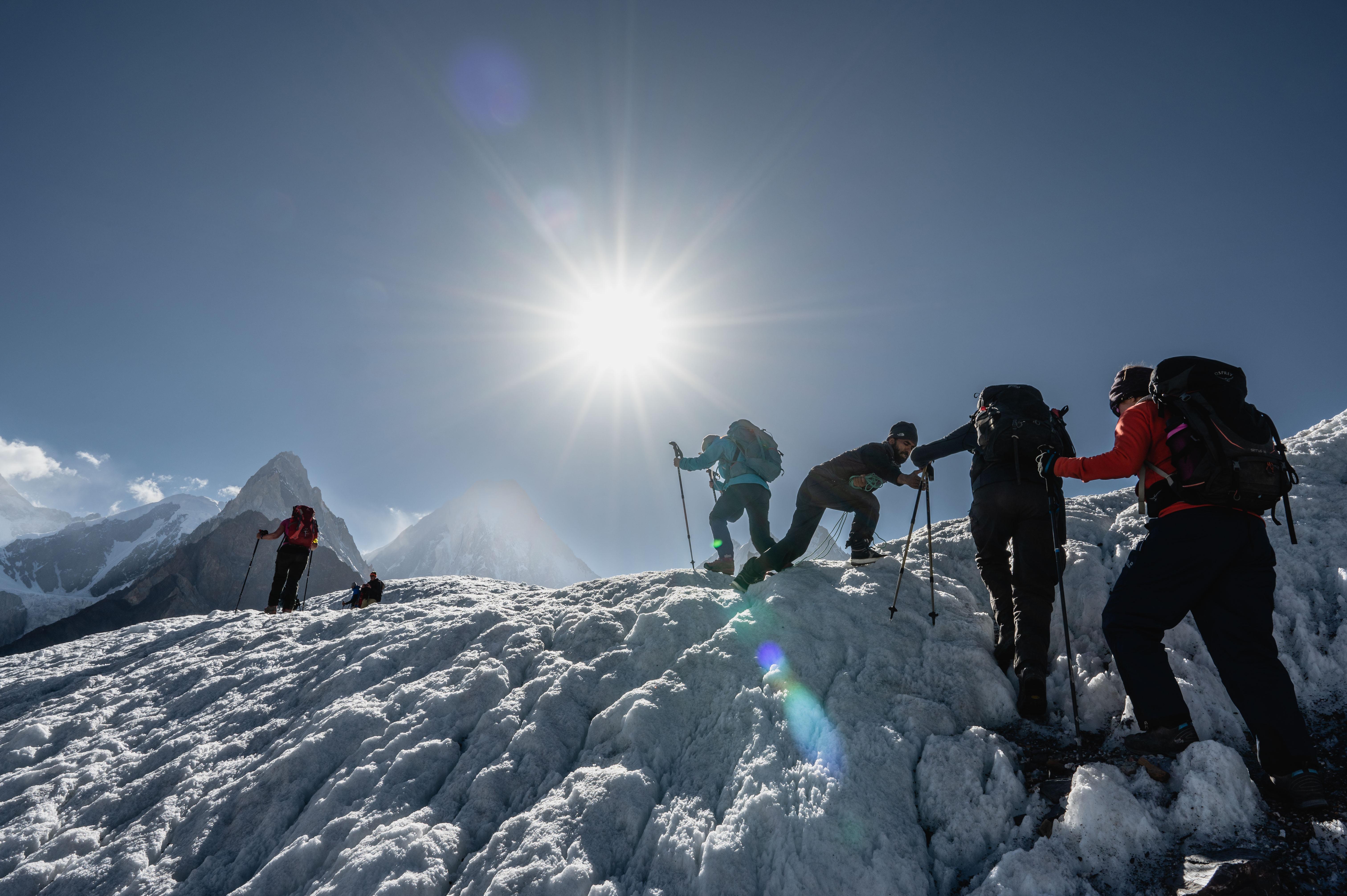 During the trek, Saif turns out to be a timid companion and a beacon of safety. Effortlessly it bounces from rock to rock, steeply up and sharply down, slippery or not. Without batting an eyelid, he stands in the middle of icy, raging rivers and mudslides for minutes to help us cross. When altitude sickness hits, he takes backpacks on top of his own luggage. The mental and physical strength of the wearers is also at least admirable. With what seems like an impossibly heavy and clumsy burden, they follow the same trajectory as we do. Despite the exhausting conditions, many porters return each summer. Many are unemployed or have difficulty making ends meet. So is Abbas, who warmly greets us every morning and evening with his shy smile. With his fourteen years of experience, he made it to the head of the porters. It's the first time for his good friend Zahid. He took a month's vacation from his army job to earn extra money as a porter. Soon he turns out to be the pacesetter on duty. Together with assistant guide Manzoor, he starts a spontaneous song and dance interlude during a short rest on the glacier. Great joy when Bart, Julie and Anne also dare to dance. There is no lack of adventure during the trek, nor of atmosphere.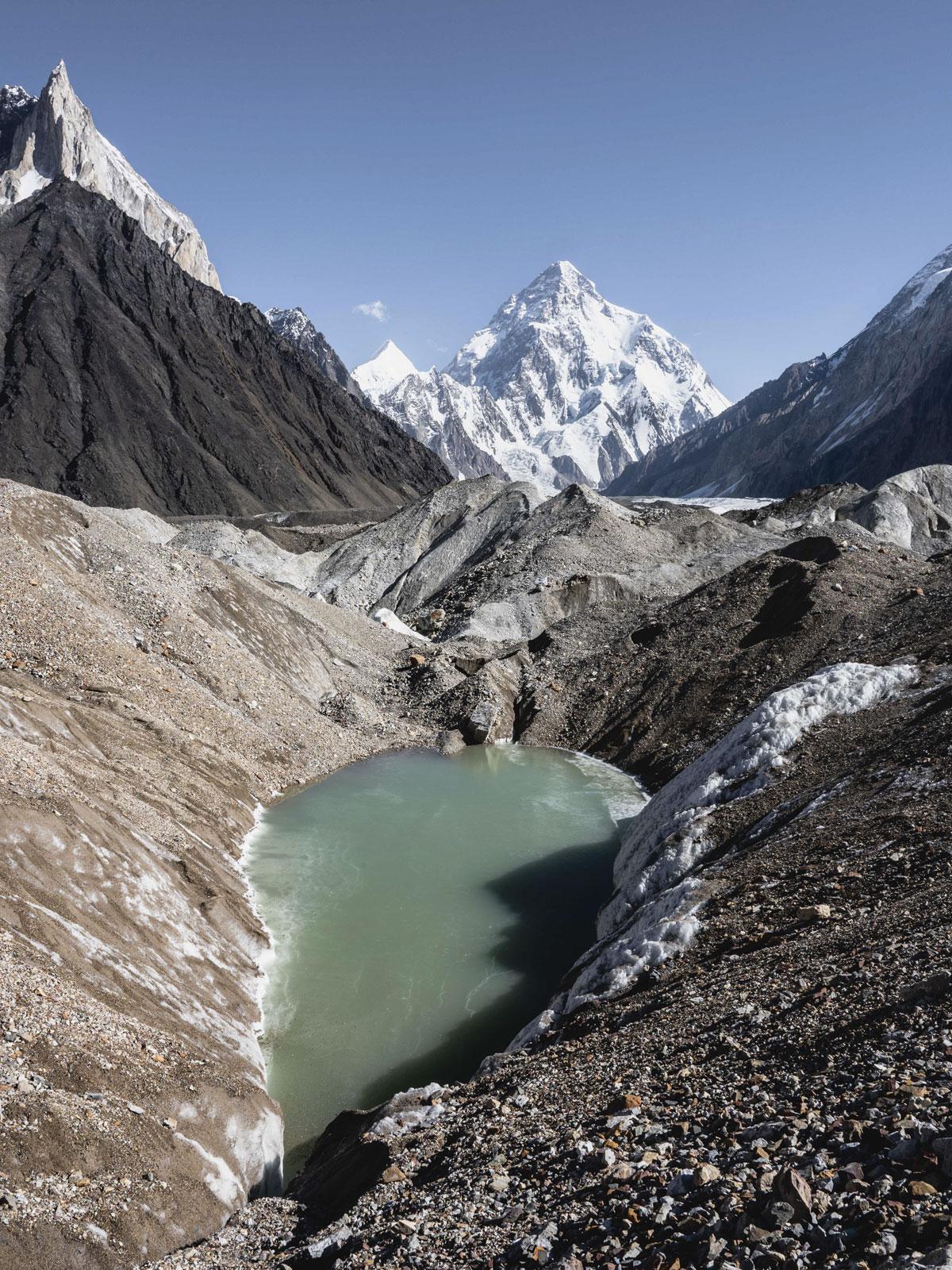 K2
Halfway through the trek, the special camp site of Concordia awaits us. When I look around, all I see are mountains over 7000 and 8000 meters high. It's also where we first get to see K2. Although a second place usually takes less credit, K2 gets all the respect he deserves. The icon spontaneously gives many a climber shivers down the back and a twinkle in the eye. With one in four climbers dying, an expedition to the top of K2 has a proven reputation for being perilous. I understand better and better the emotional connection that people feel with this mountain. But only when I stand right in front of it can I grasp the incomprehensibility. K2 shows itself in full glory, free of the typical cloud bed around its crown, titanic against the clear blue sky.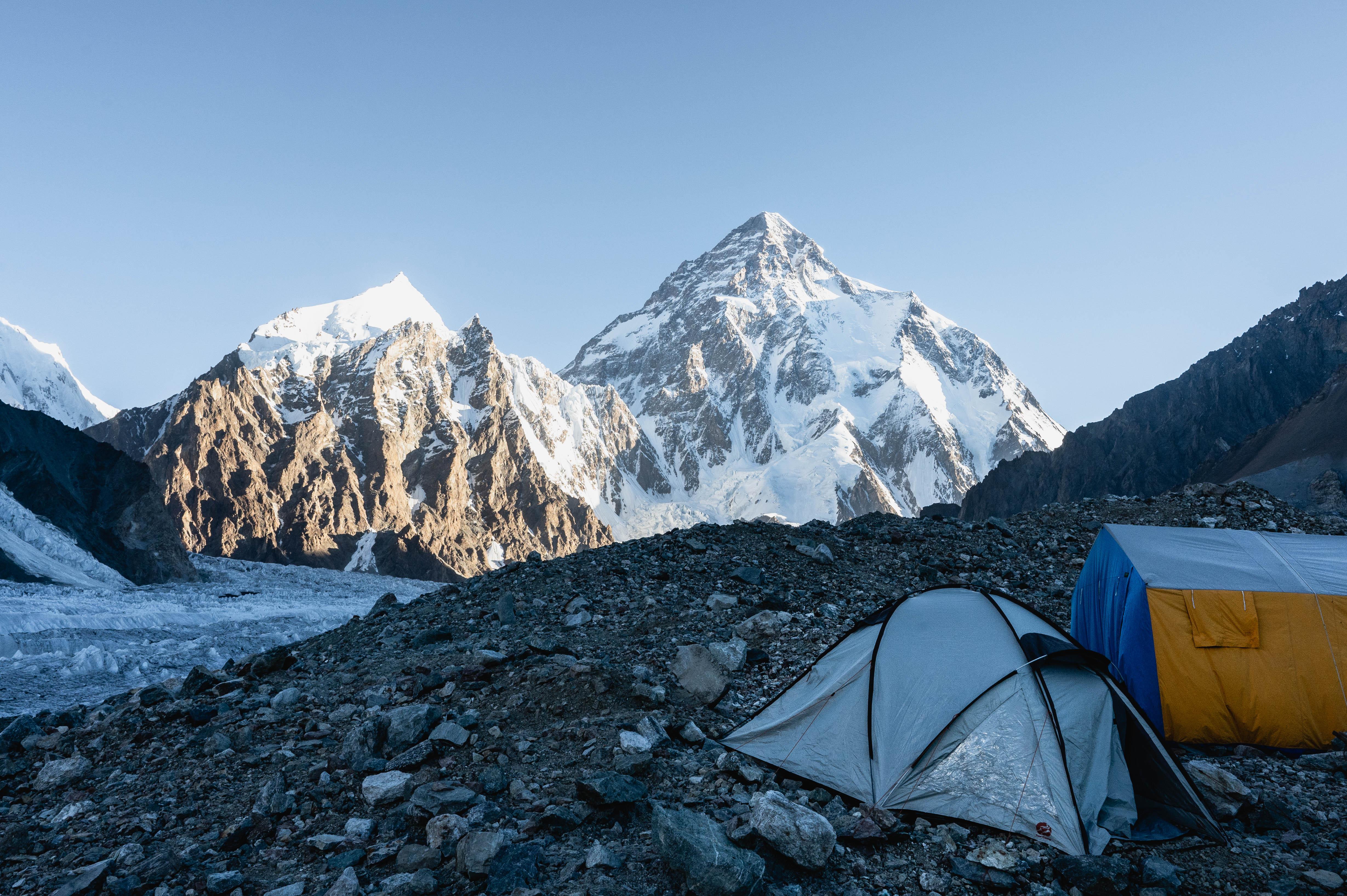 As darkness falls, Gert spots moving lights on K2's flank. We watch with vicarious adrenalin. We try to imagine how the climbers sit there waiting for a good time to leave for the top. "You have to be a bit crazy to start doing that", it sounds unanimous, after which we get ready to go to sleep.
Read also: Out and about: three tips for an amazing journey through the Himalayas
The carriers are still in the weather. They clean up and then gather around the fire that protects them from the biting cold. Wrapped in layers and a fluffy sleeping bag, I listen to the exuberant atmosphere outside. Clapping hands are getting louder, clear voices getting fuller. Rhythmic drumming propels incantatory chants sharply into the dark sky. It is rousing, intense and yet brittle. It is wealth in a pure form. And that's why I lie here, shivering in a windswept tent, surrounded by the highest mountains in the world.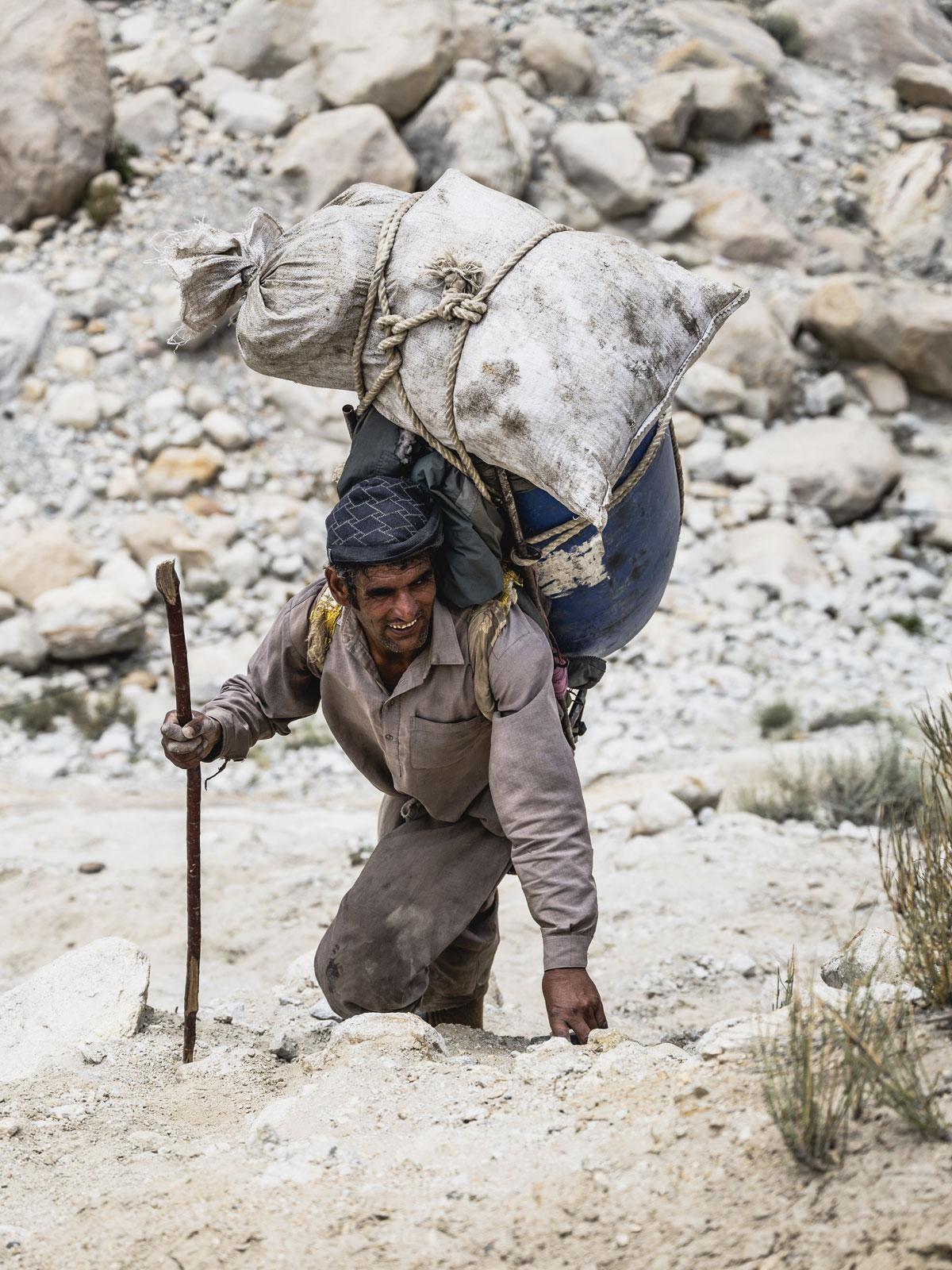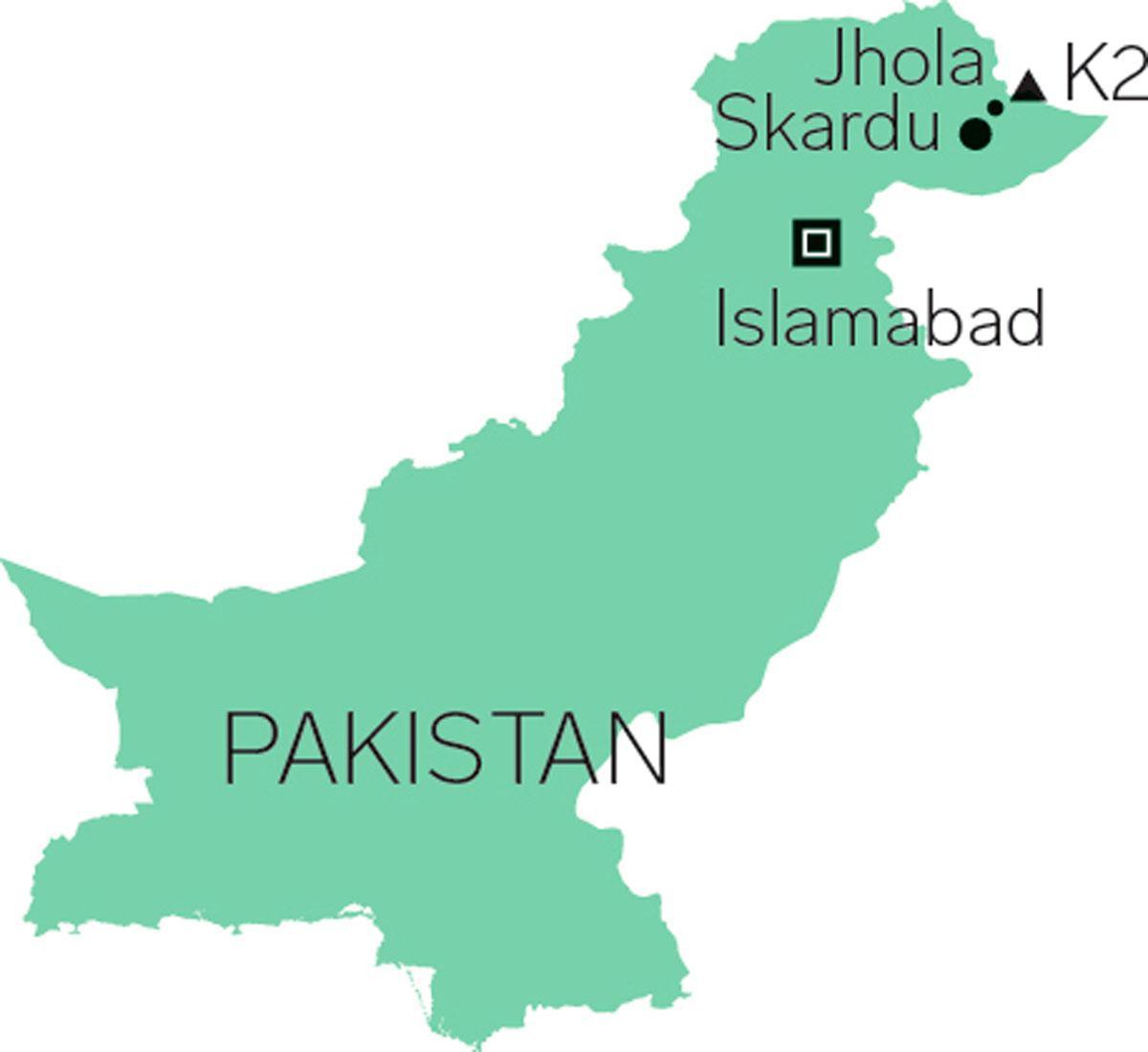 Back and forth
Offtrack's offer consists of active trips to well-known hiking paradises and less-visited destinations. With a small group of adventurers you will trek through mountainous areas. Each tour is mapped out and prepared on site in advance. Kris Lippens accompanies the trips and works with local partners to ensure a smooth and safe process. You can also contact Offtrack for individual tailor-made trips.
offtrack.be
Read also: From island to remote mountain cabin: living in a desolate place doesn't have to be lonely
The post Shaking Knees and Freezing Cold Nights: Report of a Magical Mountain Journey through Pakistan appeared first on Weekend.