Been playing since this week Good Luck to You, Leo Grande in Belgian cinemas. The tragicomedy is about sex, self-love and a complex relationship with your body. Subjects that triggered a lot with journalist Lara Laporte.
I was ten years old when I fell in love with Emma Thompson. I first saw her at work when my mom took my sisters and myself to 2003 Love Actually. The scene where Thompson puts on a Joni Mitchell CD and breaks down over her husband's cheating left the biggest impression on me. Since then I devour everything the actress does, says, breathes. Like no other she embodies the characters she plays and nothing could be further from the truth in this film. Maybe even more than ever.
When I saw the poster of her latest film earlier this year, I initially looked up. Based on that, you'd think it's a superficial, easily digestible sex comedy. Don't get me wrong, that's nice from time to time, but not quite… Emma Thompson? A quick Google session taught me that Good Luck to you, Leo Grande basically about body image, self love and yes, sex too. And that the film was written and directed by women. Not that I needed any more convincing, but still, not unimportant.
Nancy (Emma Thompson) has been missing a major momentum in her life for too long: an orgasm
What followed was an hour and a half of recognition, confrontation and intimacy. Good Luck to You, Leo Grande takes place almost continuously in a hotel room and mainly revolves around the dialogue between the two main characters. It is a brutally honest and touchingly tender dialogue. Thompson plays 62-year-old Nancy, a rigid religion teacher who has just retired and recently lost her husband. Big moments in everyone's life, and that makes Nancy realize that she's been missing another big moment for too long: an orgasm. She decides to look it up in the arms of the young sex worker Leo, and makes a to-do list of sex positions to try out together.
Thompson is so exposed as Nancy – literally – that you can't help but wish her all the Oscars in the world. Opposite her: the virtually unknown Irish actor Daryl McCormack. His character, Leo, offers the comforting shoulder in response to the harsh (un)truths that Nancy spews about her body. The way Leo understandingly embraces Nancy left me wanting more. I'd almost like to turn it into a form of therapy or a TED Talk. 'In bed with Leo Grande': now that is a workshop for which I would pay a lot of money. And I'm only talking about his soothing words, just to be clear.
Because yes, Leo is a sex worker and Nancy is looking for the orgasm, which is certainly addressed through some tasteful scenes. But that's not the big revelation of this film. Recognizability, yes. The ultimate climax of Good Luck to You, Leo Grande is therefore the poignant finale, in which Thompson stands stark naked in front of the mirror. Tears rolled down my cheeks.
I was convinced that there had to be less of me in order to be valued more by society
A sizeable reality check, just like this one: it is estimated that no less than 85% of the world's population suffers from low self-esteem. About ten percent of Belgians suffer from an eating disorder from the age of fifteen, and young girls start using beauty filters when they are barely 13 years old. I could add more numbers, but these make me sad enough.
I myself grew up during the peak of heroin chic – forget it ever 'coming back', please. I remember as a little girl scrolling irresponsible pro-ana forums for tips, saving pictures of scrawny celebrities and always wanting to be thinner. I hung on the hungry lips of Nicole Richie, Lindsay Lohan, Kate Moss. 'Nothing tastes as good as skinny feels' stuck on a post-it on my mirror. Those toxic thoughts gave me a young life full of crash diets, yo-yo effect and self-loathing. I was convinced that there had to be less of me in order to be valued more by society.
Now that I'm older, I realize that 'how much' is of me doesn't matter. My being, in whatever form, is reason enough and happiness enough. But even now that I'm almost 30, it's often and remains a battle in my head. The roots of that toxic thinking are so deep that they still regularly pull me back, including when I – like Nancy – should be at my most carefree. Movies like this work as a form of therapy and make me feel their grip weakening more and more.
We waste all our passion, energy, money and ultimately our life purpose on worrying about our bodies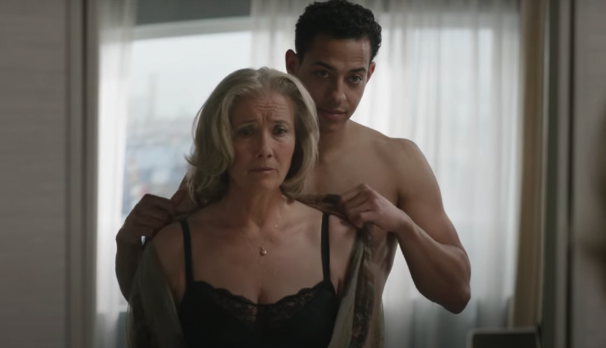 Good Luck to You, Leo Grande still reverberates months later. Leo's challenge – and the reason why he needs the congratulations in the title – succeeds: he triggers more than an orgasm in Nancy. He holds up a mirror to her, and so does the audience. Nancy takes a close look at herself, her body and her sexuality, and I followed suit. She cried, and I joined in. She was softer on herself, and I resolved to do the same. We're all kind of Nancy, I guess. We are collectively too concerned with rollers, wrinkles and other ingrained – often silly – uncertainties.
Or in the wise words of Thompson himself during the promo tour for the film: 'Too often we look in the mirror and think 'this is wrong, that's wrong, what can I do about it?' And then we waste all our passion, energy, money and ultimately our life purpose on worrying about our bodies."
I know here where I much prefer to give my passion, energy and money: my local cinema room, om Good Luck to You, Leo Grande to watch it a second time.