There's one for fairy tale fanatics, for Christmas or art lovers and even for the diehard Harry Potter fan… All lights! These ten magical light festivals will bring light to the darkness this fall.
Anyone looking for light will find it this autumn at no less than ten light festivals close to home. From Antwerp to Bruges, Brussels to Amsterdam: once night falls, you can experience the magic of light.
Antwerp: The Great Appearance
Light seekers with a flexible agenda can quickly enjoy De Grote Schijn in Provincial Groendomein Rivierenhof. Follow the light path through the dark for a titillating journey of smells, sounds and technology. The light festival turns off the lights on Sunday, November 20 at 11 p.m.
Mechelen: Giant bugs and those that eat them
Antwerp ZOO will not come to life after sunset this winter, Planckendael ZOO will. Giant insects and insectivores light up the park during the second of what may be a longer series of light festivals at the zoo. No dinosaurs this time, but an equally impressive light experience for everyone. You can walk through a beehive or between the legs of a mega spider… From 2 December to 15 January.
Sint-Pieters-Leeuw: Harry Potter – The Forbidden Forest Experience
Immerse yourself in the world of Harry Potter, which for the occasion consists of, yes: hundreds of fabulous lights. This time the adventure forest is located in and around Groenenberg Castle in Sint-Pieter-Leeuw. Deep in the forest, along an illuminated path, you can bump into Hippogriffs, Centaurs, Unicorns, Miners. There is of course also a theme village with equally fairytale food and drinks, and a souvenir shop. Until February 5.
Groot-Bijgaarden: Lightopia
The international light festival Lightopia crossed the canal to Groot-Bijgaarden Castle. Follow the enchanting route for two kilometers past thousands of colorful lanterns, 3D projections, interactive installations and an impressive water show. You can also sit down for a drink in the greenhouses of the castle. From November 18 to January 8.
Meise: WinterFloridylle
WinterFloridylle is a three and a half kilometer long (child and wheelchair friendly) walk along twenty light installations in Botanic Garden Meise. The wonderful plant world transforms into a magical place with music specially composed for the garden. In the meantime, you can enjoy a hot drink in the Winter Village. From December 22 to January 8.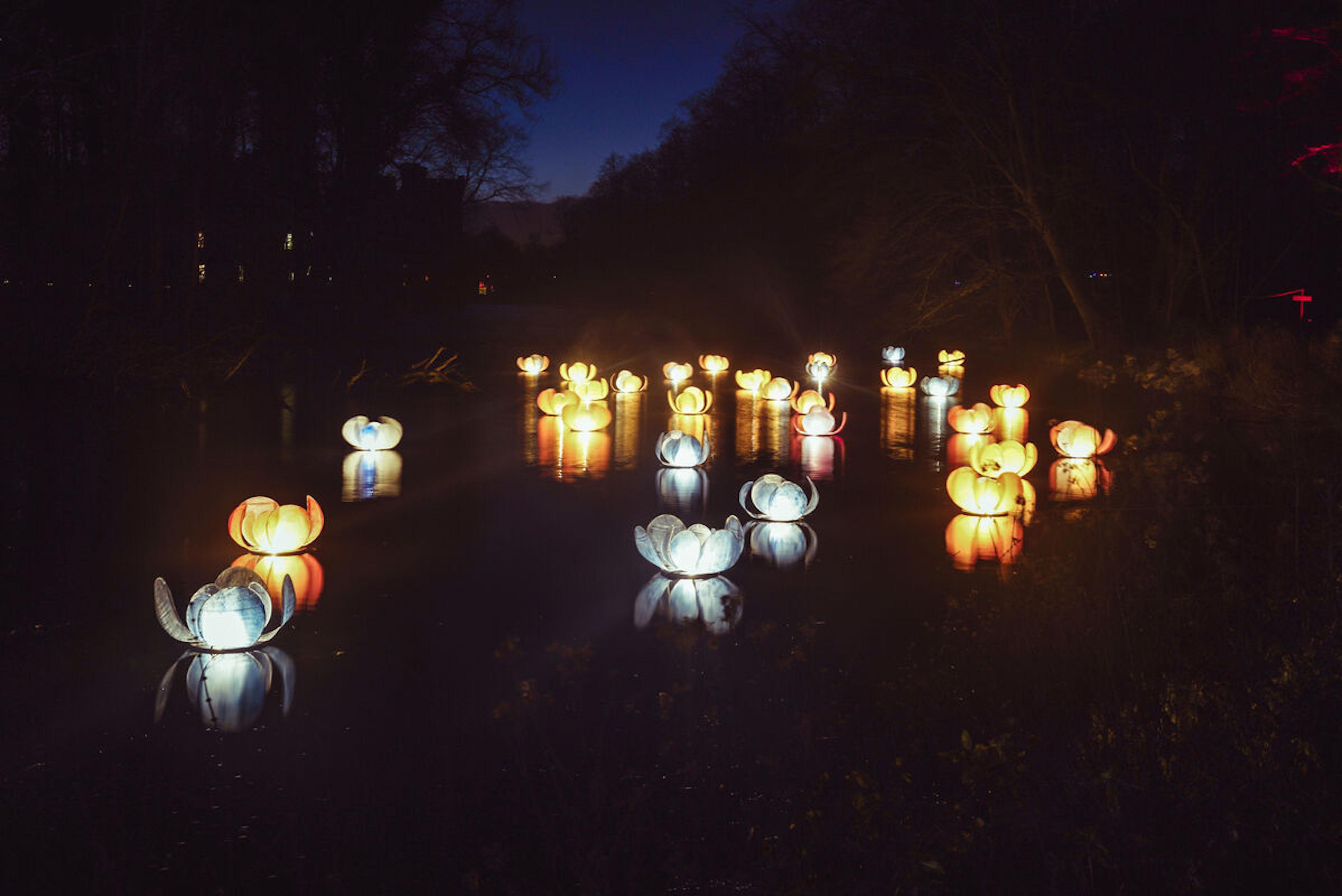 Leuven: Light Trail (un)Holy Light
(un)Holy Light stays far away from the bombastic spectacle of some other light festivals. The intimate light art of international top artists illuminates five Leuven chapels and churches along the route. Take a walk or bike ride along beautiful light artworks at iconic locations such as St. Michael's Church and St. Jacob's Church. From 10 to 18 December.
La Hulpe: Lanterna Magica
Magic is being created this winter with Lanterna Magica on the Solvay castle grounds. Two kilometers of twinkling lanterns transform the place into a large luminous fairytale paradise. The more than 20,000 lights lure mysterious forest creatures out of hiding and show you the way to spectacular light artworks. Until December 11.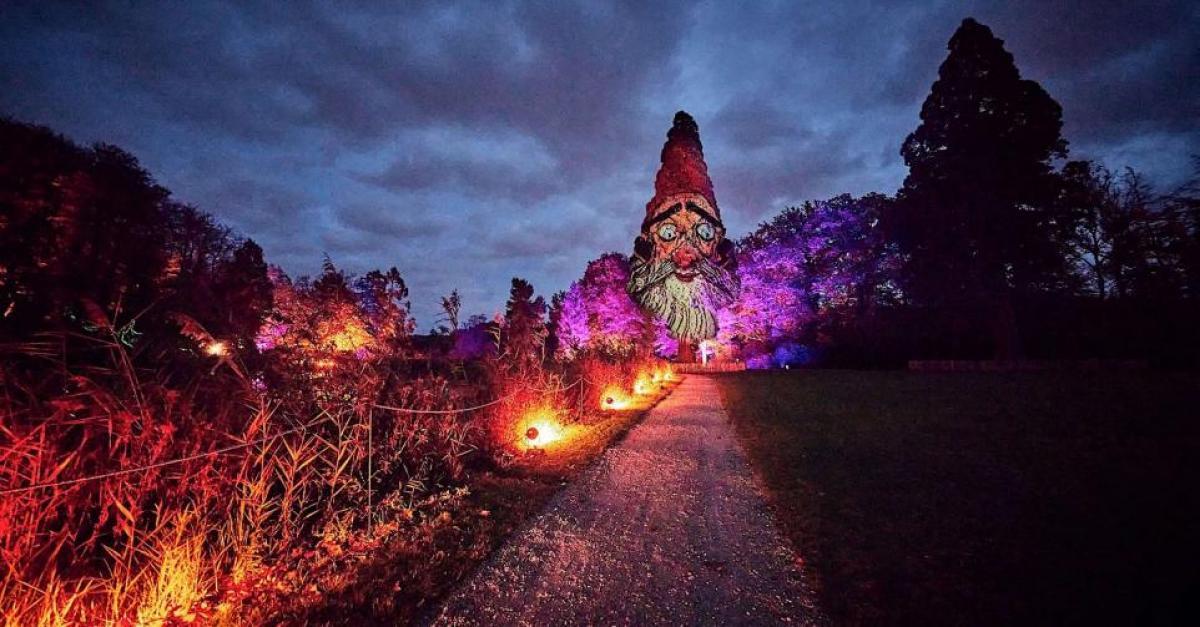 Genk: Winter light
Bokrijk is opting for energy-efficient lighting this year and yet you can experience a sparkling party during Winterlicht. Think: light and fire art, theater and circus performances and artisanal demonstrations. In the meantime, the open-air museum is also atmospherically illuminated by economical but spectacular light and fire installations. From December 26 to December 30.
Bruges: Winter Glow
Also this year you can go to Winterglow in Bruges. In addition to a Christmas market, winter bar and skating rink, a Light Experience Walk is also being organized this time. The route takes you past eight light artworks in well-known and lesser-known places in the historic city center. In addition, the ubiquitous Christmas and winter decoration also steals the show with more than 500 decorated Christmas trees. From November 25 to January 8.
Amsterdam: Light Festival
This winter, the center of Amsterdam will also be dominated by light art. The eleventh edition 'Image Beyond' brings 20 works along the canals, on the facades and above the water. Look through the light and let your imagination run wild. What do you see? Are we talking to lamps? Do we only have virtual bridges left? Does the water flow up? Join us on a journey and experience it for yourself! You can walk, cycle and even sail the 6.5 kilometers of Amsterdam Light Festival, independently or with a guide. From December 1 to January 22.