In addition to shows during the regular fashion weeks and couture week, a number of luxury houses also present an annual cruise collection, inspired by a travel destination that makes you dream.
Max Mara in Lisbon
In the tropical garden of the Calouste Gulbenkian Museum in Lisbon Max Mara its cruise collection for 2023 at the end of June. The museum, which was recently renovated with gifts from the Italian fashion house, among others, houses one of the most important private art collections in the world, with works by Rubens, Degas and Monet, among others.
It is no coincidence that Max Mara chose the Gulbenkian. During a visit to the museum a year earlier, artistic director Ian Griffiths discovered the portrait of the Portuguese poet and activist Natalia Correia, who was at the center of Lisbon's society in the mid-twentieth century. Hair Antologia de Poesia Portuguesa Erótica e Satírica was considered morally reprehensible by the authorities of her time. She also founded Bar Botequim, an intellectual salon. Correia became Griffith's inspiration and muse for this collection, "although she herself has always rejected the title of muse," says the designer. "She refused to be marginalized or controlled. There is something very voluptuous and sensual about her language and attitude towards love and passion, without becoming salacious."
What's sexier than being yourself?
Correia also plays out her femininity in her clothing with pencil skirts, flowy dresses and bare shoulders. A sexier image than what we are used to from Max Mara. "Sexy is back in fashion," says Griffiths, "and what could be sexier than being yourself? That feeling of empowerment, of self-confidence that comes from the clothes you wear has always been one of Max Mara's founding principles."
Elsewhere, Griffiths refers to the more traditional Portuguese costume with lively, somewhat naive prints of hearts and doves. The drawings refer to a local folk tradition in which young girls embroider love handkerchiefs, or Lenços de namorados do Minho, in order to win over the heart of their lover. "The result is a new kind of feminine modernity, with a touch of folk culture," says Griffiths.
Dior in Seville
Dior headed to the majestic Plaza de España, in the heart of Seville, to pay homage to Andalusia's history and the virtuosity of its artists and artisans. Central to the collection is Carmen Amaya, also known as La Capitana, one of the most famous flamenco dancers ever and the first woman to wear a men's suit to dance flamenco in the 1950s. The flamboyant Duchess of Alba, who died in 2014, was also a source of inspiration for designer Maria Grazia Chiuri. The Duchess, once the wealthiest woman in Spain, reportedly refused to model for Picasso, had more titles than Elizabeth II and preferred to ride horses with Jackie Kennedy, dressed in a cropped jacket with high-waisted trousers and a wide hat.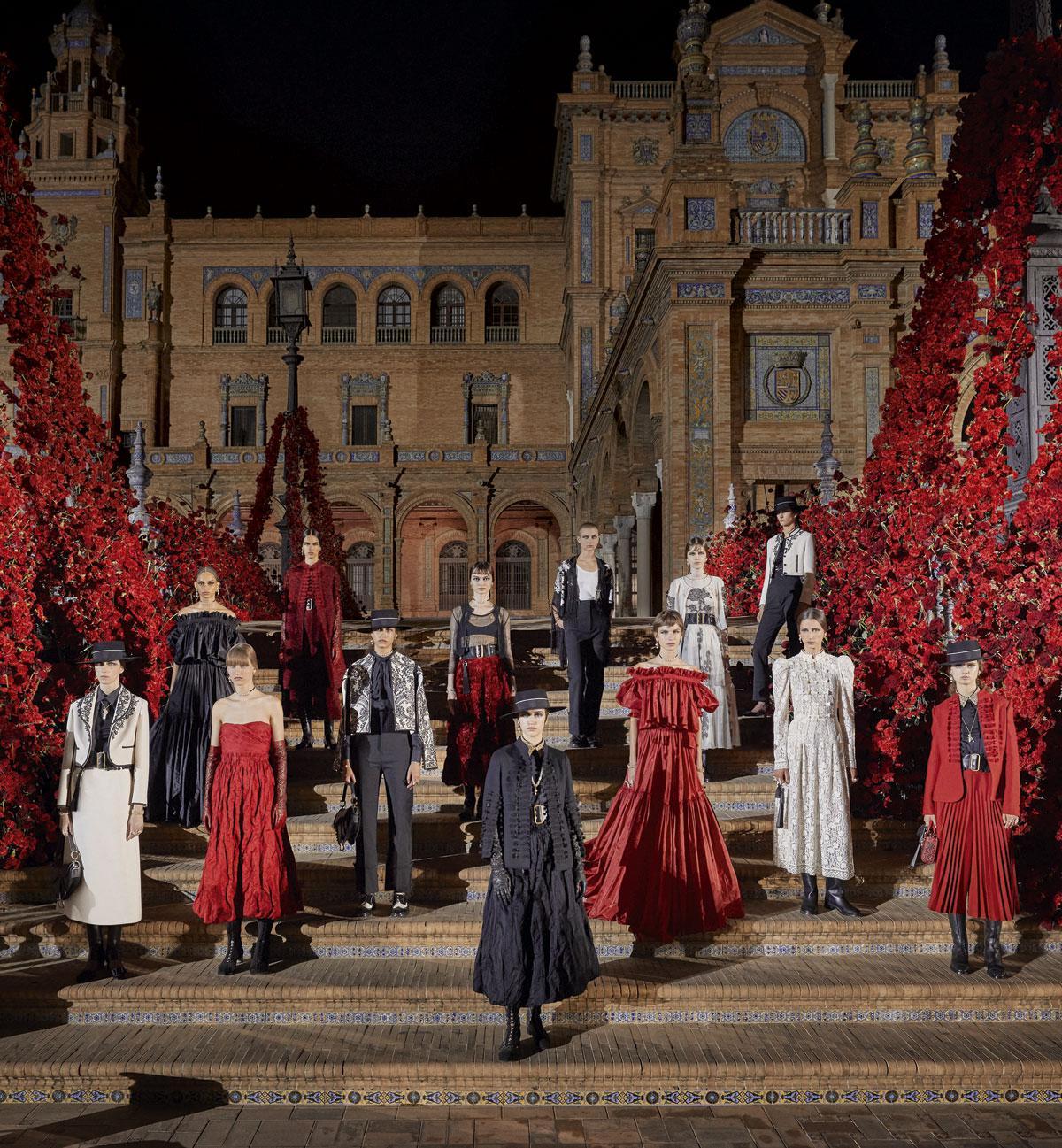 Louis Vuitton in San Diego
The sun was the guest of honor during the parade of Louis Vuitton in San Diego. Artistic director Nicolas Ghesquière presented his collection, at sunset, at The Salk Institute for Biological Studies, designed by architect Louis Kahn. A serene, brutalist monastery for enlightened minds. "Apart from the impressive location, this place also has enormous significance for the future of humanity," says Ghesquière after the show. His futuristic nomad wife seemed ready for battle. There were gladiatorial skirts, tops in metallic cloth that mimicked the effect of armor, and desert boots with chains.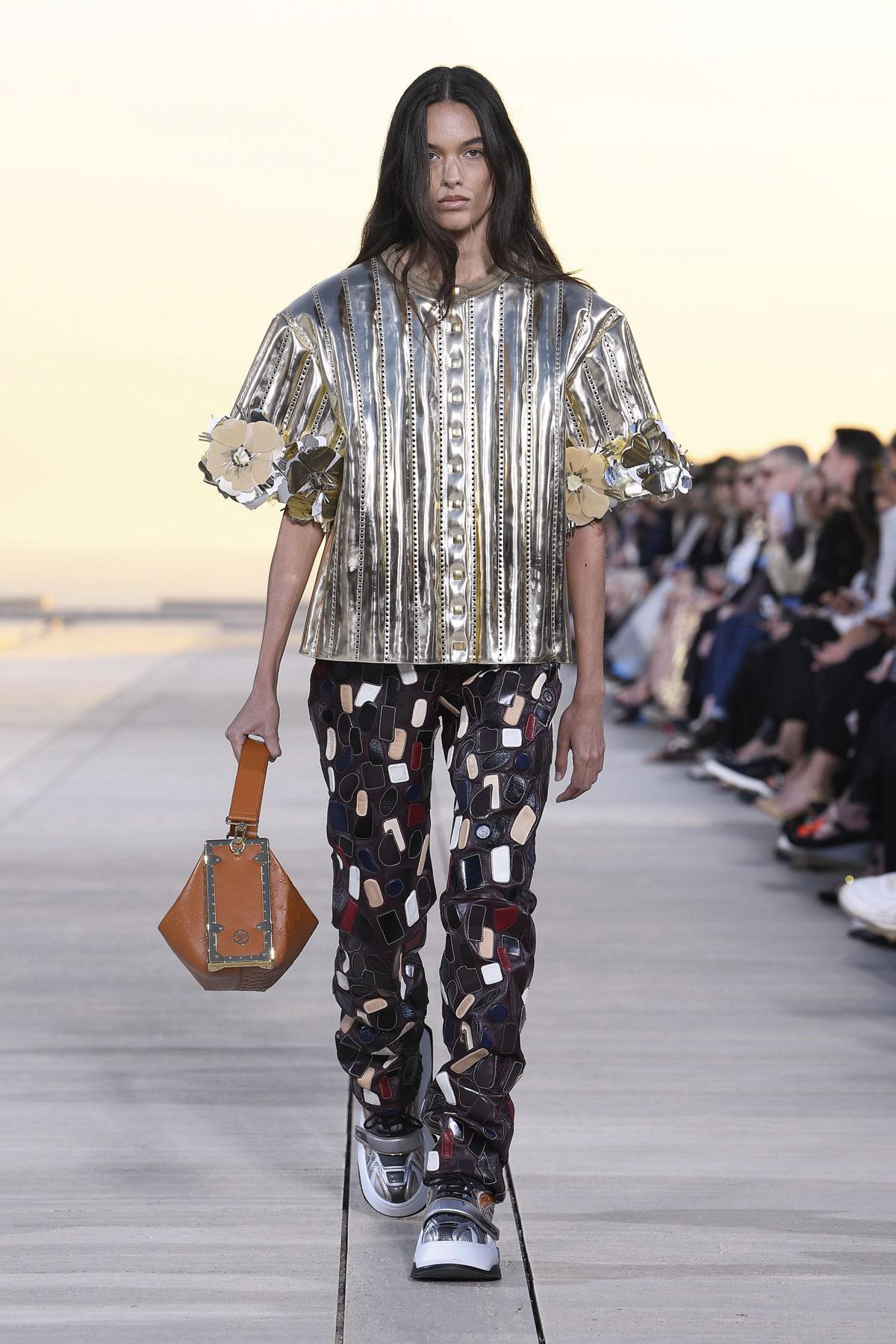 Chanel in Monte Carlo
Monte Carlo is inseparable from the history of Chanel. Karl Lagerfeld had a villa there, La Vigie, with a view of the Mediterranean Sea. Caroline van Monaco and her daughter Charlotte are ambassadors for the house. The trailers for the show, directed by Sofia and Roman Coppola, sum up the atmosphere of the collection: young women enjoying the Grand Prix, boat rides and swimming in the sea. "It is not just a sporty collection," said Virginie Viard, artistic director of Chanel in the press release. "There is a lot of tweed or silk jumpsuits lined with light terry cloth. Sequined ties over thinly striped, long shirt dresses with white, high collars – a nod to Karl – or backless tops over wide-cut trousers."